Garmin Fenix 5S
Get More From Your Workout with Less on Your Wrist
Premium smaller-sized (42 mm) multisport GPS watch with Elevate

™

wrist heart rate technology

1

Steel grip design with stainless steel EXO-Antenna bezel and forged steel back to maintain the best integrity in demanding environments
Preloaded activity profiles for all of your sports and adventures
Put key stats at your fingertips with the performance widget that shows the effects and progress of your workouts
Connected features² include smart notifications, automatic uploads to Garmin Connect

™

online sport community and personalisation through free watch faces and apps from our Connect IQ

™

store
Outdoor sensors, including GPS and GLONASS satellite positioning, barometric altimeter, 3-axis compass with gyroscope
fÄ"nix® 5S Sapphire edition adds a scratch resistant sapphire glass, WI-FI support to automatically sync with Garmin Connect and an additional QuickFit™band in the box to better match your style.

For serious athletes and adventurers who want to do more, not wear more – fÄ"nix 5S is the perfect fit. It's our premium multisport watch that offers full-size performance in a lighter, sleeker, more compact design. So you can beat yesterday with advanced features that make a real difference to your training progress such as wrist-based heart rate¹, built-in activity profiles, basic navigation functions, and performance metrics that lets you better control measure the effectiveness and progress of of your training. It's one smart sportwatch you can comfortably wear anywhere – office or outback – to keep pace with your active lifestyle.

Striking Design, Strong Performance
Because one size does not fit all, the fēnix 5S with 42 mm of watch diameter has been optimised to perfectly fit athletes with narrower wrists while providing all the advanced sport features that fēnix is known for. fēnix 5S features a sleek athletic design and superior quality feel with a stainless steel EXO-Antenna bezel and a forged steel back to guarantee performance in the most demanding of environments (water-rated to 100 meters). The fēnix 5S matches both your aesthetic and athletic ambition.
Outstanding Readability
An always on, high-resolution, full-colour Garmin Chroma Display™ assures great readability at any time. fÄ"nix 5S makes use of transflective technology that reflects and transmits light at the same time enables the watch face to become even better readable under intense sunlight. To guarantee enhanced durability of this sport watch over time fÄ"nix 5S sapphire editions offers a high quality scratch-resistant sapphire lens.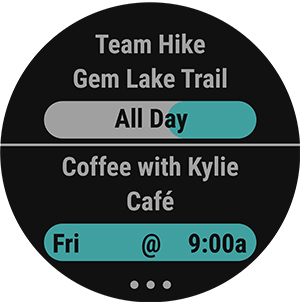 Wrist-based Heart Rate
1
To provide the ultimate freedom to the ambitious athlete all fÄ"nix 5 models include Elevate™ wrist heart rate technology that lets you monitor your heart rate without wearing a chest strap. With the new fully integrated Elevate sensor on your wrist you can control at any time the intensity of your training and track daily activities with 24/7 heartrate monitoring to gain more accurate information on burned calories during the day.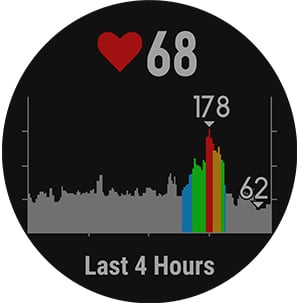 Match Your Style with Interchangeable Watchbands
A selection of QuickFit bands in your choice of premium leather, metal or silicone makes it easy to mix and match styles to go with any sport or activity. No tools are required to make the transformation. Just swap, click and go.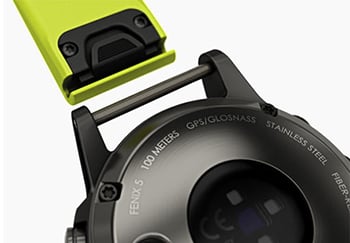 All You Need to Know About Your Training
Your aim to continuously improve your performance drives you through countless hours of training. The fēnix 5S's new Performance Widget holds all the information you need to easily access in one place, to better track your fitness level and help you to train more efficiently.
Training Status: Tells you how effective your training is and provides guidance on whether your workouts are productive and making progress.
Training Load: Tells you how hard you train over a period of time no matter which activity.
Training Load: Tells you how hard you train over a period of time no matter which activity.
Recovery Advisor: The Recovery Timer tells you the recommended recovery time counting down from your last workout.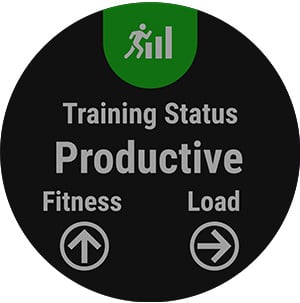 More advanced indicators like your Functional Threshold Power (FTP) and Lactate Threshold help you to better judge your actual performance level during cycling or running and the Race Predictor eventually estimates your ideal finish time for a 5k, 10k, half marathon and marathon distance races based on your current VO2max number. Training Effect 2.0 will provide aerobic and anaerobic benefit scores for each training session, so that you understand whether your high-intensity interval training really pays off.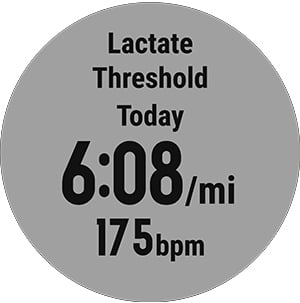 Step-up Your Running
Now you can go further with your running data. Garmin training features that tap into extended physiological metrics and advanced running dynamics1 can help improve your form and overall performance. These metrics include performance condition that compares your actual condition to your average fitness level, running cadence, and stride length. Make every run a personal challenge, compete against others on Strava Live Segments, get alerts for segment starts and finishes, view leaderboard rankings, and see how your current effort compares to your personal record.
Once paired with a compatible heart rate chest strap such as the HRM-Run™, you can access additional fÄ"nix 5S metrics3. Metrics including, Stress Score to measure your actual stress level based on your heart rate variability, vertical oscillation and ratio or ground contact time and balance to make your running more efficient.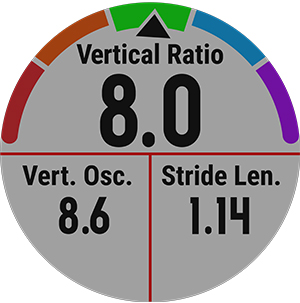 Run Vertical
fÄ"nix 5S comes pre-loaded with features that make all the difference on the trail. The Auto Climb/Run feature makes sure you get the right metrics in the right environment. It will track pace and distance when running on the flat and automatically switch to accumulated ascent and vertical speed once you start climbing. For the Ultra distance runner fÄ"nix 5S provides a special mode that allows you to extend tracking to take it much further and track up to 50 h in the new gyro-reinforced UltraTrac® mode.
A True Multi Sport Talent
For the multi-sport athlete of any type, fēnix 5S is the perfect partner. Use dedicated activity profiles for Swim-Run, Triathlon or create the multisport profile that suits your training routine and race day. Easily change from one activity to the next with just a press of a button to make sure all your training splits are taken into account.
The Watch for All Sorts of Sports
Beyond their running functions, fÄ"nix 5 watches also offer special feature sets to support cycling, swim training, skiing, golfing and paddle sports, including stand-up paddle boarding and rowing. For cycling fÄ"nix 5S supports speed and distance and all cycling dynamics once paired with a power meter, for swimmers, the device tracks your distance, stroke count and more. Ski/Board mode puts speed, distance, vertical drop and an automatic run counter at your fingertips. The feature set for paddle sports includes stroke count, stroke rate and even distance per stroke. Golf mode gives you yardage to the front, back and middle of the green for any single course you've downloaded from Garmin Connect – and also adds enhancements such as stat tracking (fairways hit, etc.), Green View, AutoShot detection and auto measure.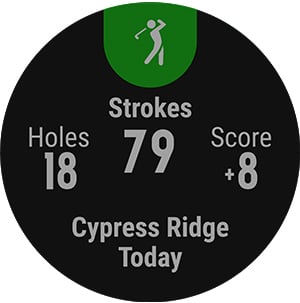 Navigate the Great Outdoors, Your Way
Each fÄ"nix 5S guides you safely on and off the beaten path combining GPS/GLONASS positioning, advanced sensors and well known Garmin navigation features like TracBack™. To provide the most accurate information the device auto-calibrates its sensors using GPS. The built-in altimeter provides elevation data to accurately monitor ascent and descent, while the thermometer and barometer can be used to predict weather changes by showing short-term trends in air pressure. The 3-axis electronic compass keeps your bearing, whether you're moving or not.
So Many Ways to Stay Connected
All fÄ"nix 5 series models can support smart notifications when paired with a compatible device. Receive emails, texts and alerts right on your watch. Another new fÄ"nix 5S feature is GroupTrack5 that allows you to pair your device through Garmin Connect™ so you can keep tabs of your connected buddies, and they can keep tabs on you when you get separated during an activity. Other connected features include automatic uploads to our Garmin Connect, live tracking and social media sharing through our free Garmin Connect™ Mobile applications. All fÄ"nix 5 Sapphire models are Wi-Fi®-enabled so your watch can connect to your wireless network and automatically send activity uploads for sharing on Garmin Connect.
Custom Apps and Watch Faces
You can customise your fēnix 5S watch with free downloads from our Connect IQ store. Change your watch face, add data fields or get apps and widgets for information at a glance.
Garmin is continually working with top companies and developers to build partnerships that add even more value to your fēnix multisport watch. Names such as Uber, Strava, AccuWeather and many others offer apps and enhancements that let you tailor your fēnix 5S to fit your lifestyle in more ways than ever.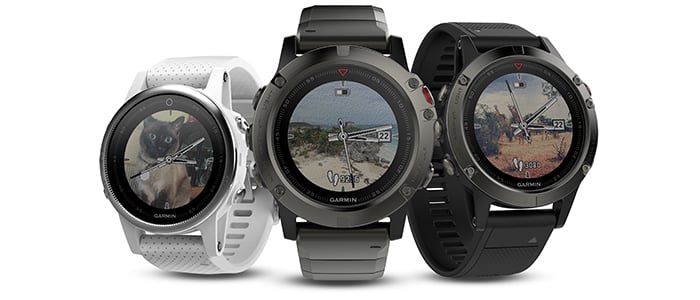 Wear Your Personality on Your Sleeve
You can also download the free Garmin Face-It™ watch face app to customise your fÄ"nix 5S with any photo from your smartphone. Just download the app, choose an image from your photo library, adjust the style for time and set it as your watch's face. Whether it's a scenic view from your last hike or a picture of your new puppy, with Garmin you can add personality to your watch that's uniquely you.
1Activity tracking accuracy
2When paired with a compatible smartphone
3When paired with a heart monitor. Included with some models, sold separately on others.
4Activity tracking accuracy
5When paired with a compatible smartphone - GroupTrack can track up to 50 people.
Wi-Fi® is a registered trademark of the Wi-Fi Alliance. App Store is a trademark of Apple Inc. Google Play is a trademark of Google Inc.
Features
Physical & Performance

Physical dimensions
42.0 x 42.0 x 14.5 mm
Display size, WxH
1.1" (27.94 mm) diameter
Display resolution, WxH
218 x 218 pixels; sunlight-visible, always-on, low power, colourful display
Colour display
Negative mode display
Weight

With silicone band: 2.4 oz (67.0 g)

Battery
Rechargeable lithium-ion
Battery life
Up to 8 days in smartwatch mode (depending on settings), up to 13 hours in GPS mode, and up to 50 hours in UltraTrac

™

battery saver mode
Water rating
10 ATM
GPS-enabled
GLONASS
High-sensitivity receiver
Barometric altimeter
Electronic compass
Smart notifications (displays email, text and other alerts when paired with your compatible phone)
Vibration alert
Music control
Find my phone
VIRB® control
Watch functions
Time of day (12/24h), calendar (day/date), daily alarm, stop watch, timer, sunrise/sunset alerts
Maps & Memory

Built-in memory
64 MB; available 54 MB
Custom POIs (ability to add additional points of interest)
Waypoints/favorites/locations
1,000
Routes
30
Track log
200 hours
Running Features

Virtual Pacer™ (compares current pace to target)
V02 max estimate
Recovery advisor
Race predictor
Running dynamics
Accelerometer (calculates distance for indoor workouts, without need for a foot pod)
Personal records
Cycling Features

Compatible with Vector™
Multiple bike profiles
Bike speed/cadence sensor
Yes (optional)
Performance Features

Heart rate monitor
Yes (wrist-based)
Virtual Partner® (train against a digital person)
Virtual Racer™ (compete against other activities)
Courses (compete against previous activities)
Auto Pause® (pauses and resumes timer based on speed)
Auto Lap® (automatically starts a new lap)
Auto Scroll (cycles through data pages during workout)
Multi-sport
Auto multisport (switch sport modes with 1 button press)
Advanced workouts (create custom, goal-oriented workouts)
Pace alert (triggers alarm if you vary from preset pace)
Time/distance alert (triggers alarm when you reach goal)
Interval training (set up exercise and rest intervals)
Heart rate-based calorie computation
Calculates calories burned
Training Effect (measures impact of an activity on your aerobic fitness)
Customisable screen(s)
Power meter compatible (displays power data from compatible 3rd party ANT+™-enabled power meters)
Swimming Features

Pool swim metrics (lengths, distance, pace, stroke count/rate, calories)
Stroke type identification (e.g. freestyle)
Open water swim metrics (distance, pace, stroke count/rate, calories)
Swim workouts
Golfing Features

Measures shot distance (calculates exact yardage for shots from anywhere on course)
Yardage to F/M/B (distance to front, middle and back of green)
Yardage to layups/doglegs
Digital scorecard
Outdoor Features

Hunt/fish calendar
Sun and moon information
Area calculation
Activity Tracking Features

Step counter
Auto goal (learns your activity level and assigns a daily step goal)
Move bar (displays on device after a period of inactivity; walk for a couple of minutes to reset it)
Sleep monitoring (monitors total sleep and periods of movement or restful sleep)
Garmin Connect™

Garmin Connect™ compatible (online community where you analyse, categorise and share data)
Automatic sync (automatically transfers data to your computer)
Additional

Additional

Connect IQ

™

app support: Yes (watch faces, data fields, widgets and apps)
EXO

™

antenna (GPS/GLONASS): Yes
Wi-Fi

®

: Yes (Sapphire versions only)
ANT+

®

: Yes (all versions)
Bluetooth

®

: Low Energy (all versions)
Training Effect 2.0 (measures impact of an activity on your aerobic & anaerobic fitness): Yes
Training Load: Yes
Training Status: Yes
Lactate Threshold: Yes
Weather Alerts: Yes
UltraTrac: Yes
tempe

™

sensor support: Yes
TracBack: Yes
Ski features: Yes
Physiological measurements: Yes
SUP/Rowing: Yes
Foot pod: Yes (optional)
Price list: € 600.00
Discounted price: € 519.00
Free delivery to Italy!
Price: € 5,200.00
Discounted price: € 4,679.00
Price: € 750.00
Discounted price: € 649.99
Price: € 7,920.00
Discounted price: € 7,129.00
Price: € 3,780.00
Discounted price: € 3,399.00
Price: € 1,100.00
Discounted price: € 1,099.99
Price: € 650.00
Discounted price: € 639.00
Price: € 600.00
Discounted price: € 559.99
Price: € 650.00
Discounted price: € 599.00