Garmin Swim 2
GPS swimming smartwatch for the pool and open water
Monitors underwater wrist-based heart rate1

during swim activities
Pool swim mode: records distance, pace, stroke count, stroke type and SWOLF (gauges swimming efficiency)
Open-water swim mode: uses built-in GPS for swims in lakes, oceans or rivers; records distance, pace, stroke count, SWOLF, stroke rate and stroke distance
Offers advanced features for staying on pace, logging drills and more
Includes free online analysis, custom workout creation, storage and sharing on Garmin Connect™

online community
Battery life: up to 7 days in smartwatch mode, 13 hours in GPS and optical heart rate (OHR) mode and 72 hours in pool and OHR mode
Swim anywhere, train everywhere with Garmin Swim 2, the GPS swimming smartwatch. Use it in the pool or in open water to monitor your underwater heart rate at the wrist1 and to make sure you're on track by recording distance, pace, stroke count, stroke type and distance per stroke. All you need to do is add water.
Underwater wrist-based heart rate
Garmin Swim 2 with Elevate™ heart rate technology measures heart rate at the wrist 24/7, including during swim activities. Glance at your heart rate in real time as you swim, check out your average and max values during rests, then analyse your heart rate post-swim on Garmin Connect.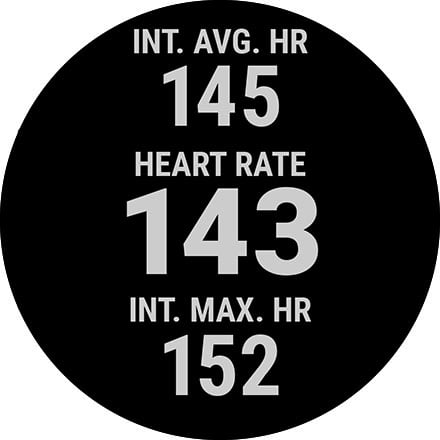 Pool and open water
Where there's water, this watch works to track your workout. Using built-in GPS, you can train in lakes, oceans and rivers while recording distance, pace, stroke count, stroke rate, stroke distance and SWOLF score to gauge swimming efficiency. If swimming in the pool is your preference, take advantage of all that and advanced pool features, including a new auto rest feature that tracks your rests and swim intervals automatically — no button presses required.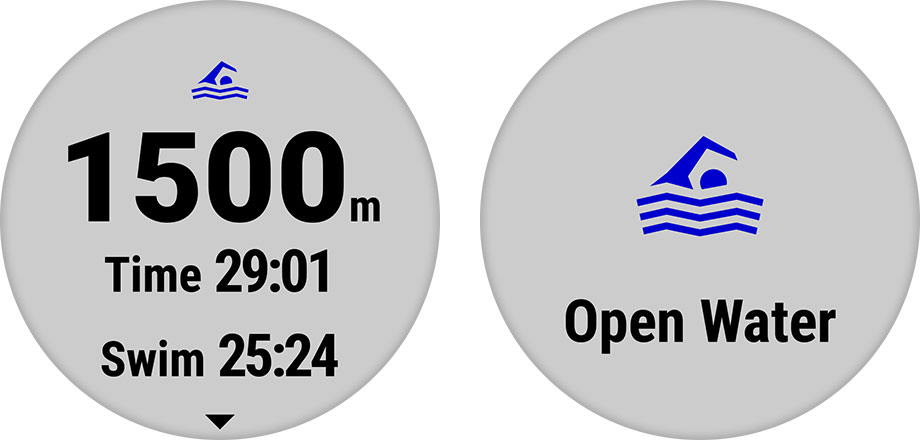 Advanced swim features
Advanced training deserves advanced features, which is why we added even more to the Garmin Swim 2 smartwatch. Critical Swim Speed approximates your anaerobic threshold speed, and you can use it to guide your training and track your progress. Turn-based pacing alerts make it easy to stay on target and meet goals. Drill logging enables you to track time and distance for drills such as kicking, one-arm swimming, or sculling drills. And when you need a break, Garmin Swim 2 lets you track your rests with two types of rest timers.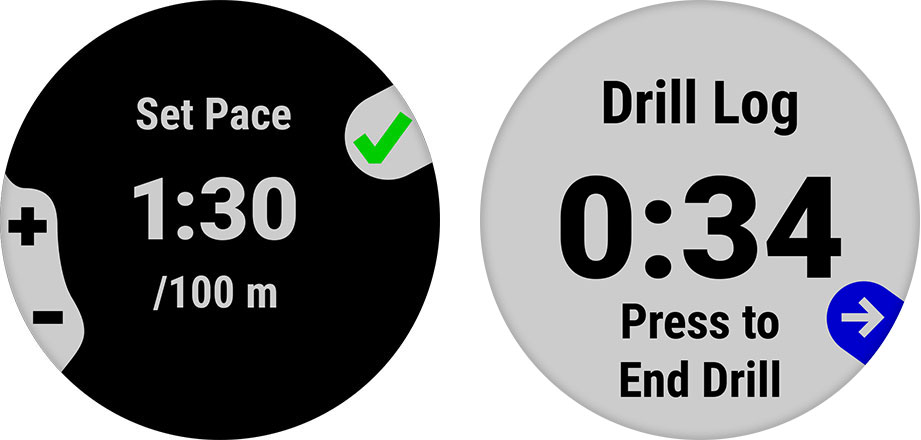 Designed for water
Garmin Swim 2 was designed to never slow you down in the water — it's slim and lightweight. The always-on, full-colour Garmin Chroma Display™ technology that makes it easy to read, even in direct sunlight. With its reliable five-button interface, you can easily start workouts, view different data, log drills or change your settings without worry of water interfering.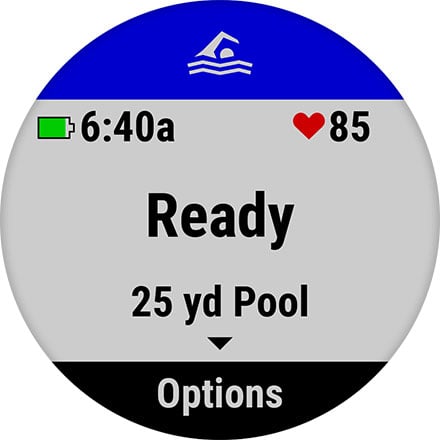 Stay connected
Get your swim in without leaving important smart features behind. Once paired with your compatible smartphone, you can stay connected with smart notifications and automatic uploads to the Garmin Connect online community. The app allows you to see detailed metrics and track your progress over time. You can also share your workout data with your coaches, workout buddies or friends and family.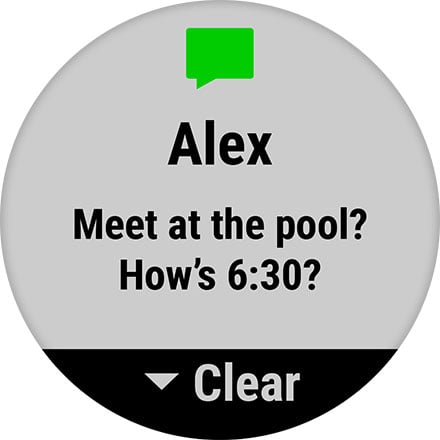 24/7 wear
Beyond its swimming capabilities, the Garmin Swim 2 smartwatch offers wellness monitoring features and fitness tracking, which make it great for all-day wear. Features such as all-day stress tracking and advanced sleep monitoring help swimmers manage their overall health by providing crucial insights that can be used to maximise their training. Set move goals, track steps, monitor body battery, perform guided breathing, and use it to track workouts — including cycling and running — out of the water.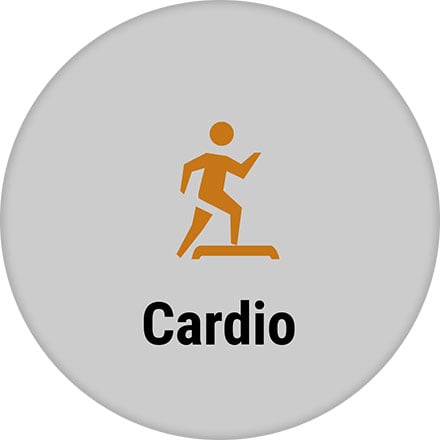 Features
General

LENS MATERIAL
Chemically-strengthened glass
STRAP MATERIAL
Silicone
PHYSICAL SIZE
42 x 42 x 11.4 mm
Fits wrists with a circumference of 129-197 mm
Larger replacement bands are available as an optional accessory. Large bands fit wrists with a circumference of 151-219 mm
DISPLAY SIZE
1.04" (26.3 mm) diameter
DISPLAY RESOLUTION
208 x 208 pixels
DISPLAY TYPE
Sunlight-visible, transflective memory-in-pixel (MIP)
WEIGHT
36 g
BATTERY LIFE
Smartwatch mode: Up to 7 days
GPS mode: Up to 13 hours
Pool and OHR mode: up to 72 hours
WATER RATING
Swim, 5 ATM
COLOUR DISPLAY
MEMORY/HISTORY
50 hours of activity data
Clock features

TIME/DATE
GPS TIME SYNC
AUTOMATIC DAYLIGHT SAVING TIME
ALARM CLOCK
TIMER
STOPWATCH
Sensors

GPS
GLONASS
GALILEO
GARMIN ELEVATE™

WRIST HEART RATE MONITOR
ACCELEROMETER
Daily smart features

CONNECT IQ™

(DOWNLOADABLE WATCH FACES, DATA FIELDS, WIDGETS AND APPS)
Yes (watch faces only)
SMART NOTIFICATIONS
CONNECTIVITY
CALENDAR
WEATHER
CONTROLS SMARTPHONE MUSIC
FIND MY PHONE
FIND MY WATCH
SMARTPHONE COMPATIBILITY
iPhone®, Android™
COMPATIBLE WITH GARMIN CONNECT™

MOBILE
Activity tracking features

STEP COUNTER
MOVE BAR (DISPLAYS ON DEVICE AFTER A PERIOD OF INACTIVITY; WALK FOR A COUPLE OF MINUTES TO RESET IT)
AUTO GOAL (LEARNS YOUR ACTIVITY LEVEL AND ASSIGNS A DAILY STEP GOAL)
SLEEP MONITORING (MONITORS TOTAL SLEEP AND PERIODS OF MOVEMENT OR RESTFUL SLEEP)
CALORIES BURNED
DISTANCE TRAVELLED
INTENSITY MINUTES
TRUEUP™
MOVE IQ™
FITNESS AGE
Yes (in app)
BODY BATTERY™ ENERGY MONITOR
ALL-DAY STRESS TRACKING
Training, planning and analysis features

GPS SPEED AND DISTANCE
CUSTOMISABLE SCREEN(S)
Yes (swim only)
AUTO PAUSE®
ADVANCED WORKOUTS
Yes (pool swim only)
AUTO LAP®
MANUAL LAP
TRAINING EFFECT (AEROBIC)
Yes (swim only)
TRAINING EFFECT (ANAEROBIC)
Yes (swim only)
TOUCH AND/OR BUTTON LOCK
ACTIVITY HISTORY ON WATCH
PHYSIO TRUEUP
Heart rate features

HR ZONES
HR CALORIES
HR BROADCAST (BROADCASTS HR DATA OVER ANT+™

TO PAIRED DEVICES)
Running features

AVAILABLE RUN PROFILES
Outdoor running
GPS-BASED DISTANCE, TIME AND PACE
Cycling features

AVAILABLE CYCLING PROFILES
Cycling
Swimming features

AVAILABLE SWIM PROFILES
Pool swimming, open-water swimming
OPEN-WATER SWIM METRICS (DISTANCE, PACE, STROKE COUNT/RATE, STROKE DISTANCE, SWIM EFFICIENCY (SWOLF), CALORIES)
POOL SWIM METRICS (LENGTHS, DISTANCE, PACE, STROKE COUNT/RATE, SWIM EFFICIENCY (SWOLF), CALORIES)
STROKE TYPE DETECTION (FREESTYLE, BACKSTROKE, BREASTSTROKE, BUTTERFLY) (POOL SWIM ONLY)
DRILL LOGGING (POOL SWIM ONLY)
BASIC REST TIMER (UP FROM 0)
"REPEAT ON" REST TIMER
AUTO REST (POOL SWIM ONLY)
TIME AND DISTANCE ALERTS
PACING ALERTS (POOL SWIM ONLY)
COUNTDOWN START
POOL SWIM WORKOUTS
CRITICAL SWIM SPEED
UNDERWATER WRIST-BASED HEART RATE
HEART RATE FROM EXTERNAL HRM (REAL-TIME DURING RESTS, INTERVAL AND SESSION STATS DURING RESTS, AND AUTOMATIC HEART RATE DOWNLOAD POST-SWIM)
Price list: € 250.00
Discounted price: € 249.00
Free delivery to Italy!
Price: € 180.00
Discounted price: € 169.00
Price: € 79.00
Discounted price: € 59.00
Price: € 600.00
Discounted price: € 499.00
Price: € 650.00
Discounted price: € 609.00
Price: € 1,200.00
Discounted price: € 1,199.99
Price: € 50.00
Discounted price: € 40.00
Price: € 1,200.00
Discounted price: € 1,099.00
Price: € 400.00
Discounted price: € 399.00